Return to Headlines
Career and Technical Education (CTE)
February was Career and Technical Education (CTE) month, and the School District of Osceola County had plenty of reasons to celebrate. State and district data show that students who take two or more CTE courses during high school are more likely to graduate (by 6.7% in Osceola County) and often perform better on state testing than their non-CTE counterparts.
We offer courses for more than 16 career pathways including agriculture, health sciences, hospitality, information technology, and business management to name a few. Within these pathways, our students are able to complete multiple industry certifications. During the 2021-2022 school year, our students earned nearly 3,000 industry validated certifications and they are projected to surpass that number before the end of this school year.
The CTE curriculum extends beyond the final bell as many of our talented CTE students participate in clubs and after-school activities centered around various career pathways. Here are some notable accomplishments our students have achieved outside of the classroom during the third quarter:
Our Skills USA teams took home five gold, eight silver and one bronze medal from the state competition held in Orlando during the month of February.
The FCCLA team from the Early Childhood Education program at St. Cloud High School competed at the state competition and placed first, allowing them to advance to the national competition in San Diego, California. They ultimately placed in the top ten throughout the nation. We are so proud of their hard work!
Another main goal of our dedicated CTE teachers and staff is to forge strong partnerships with local employers so students with industry certifications and practical experience can get well-paying jobs right out of high school. Sometimes these companies will even pay for our students to go to school while students work their way up the company ladder. In fact, we currently have 10 NeoCity Academy students completing paid internships with SkyWater Technology, a semiconductor manufacturer with a lab in Osceola County. Proof that CTE is an asset in helping our students become future ready!
The district also offers CTE opportunities for adults through various registered apprenticeship and pre-apprenticeship programs in construction, which are made possible through dedicated business partners such as Balfour Beatty and iBuild. We've also launched new Integrated Education and Training programs through our Adult Learning Center (ALCO) for Paraprofessionals and Phlebotomy. Through these unique programs, adult learners can learn English while gaining skills to obtain industry certification thus increasing their employability and contributions to the community.
We are also preparing to launch apprenticeships for Medical Assisting in partnership with Orlando Health as well as Diesel Maintenance Technician to help create a pipeline for qualified mechanics and transportation staff to fill some of the vacancies we are experiencing in the district's Transportation department.
These accomplishments are merely a glimpse at some of the amazing things our CTE students and teachers accomplish throughout a single school year. You can learn more about any of our outstanding CTE programs at: Career and Technical Education / Areas of Study (osceolaschools.net). Plus, our team is always happy to provide assistance over the phone at 407-518-4580.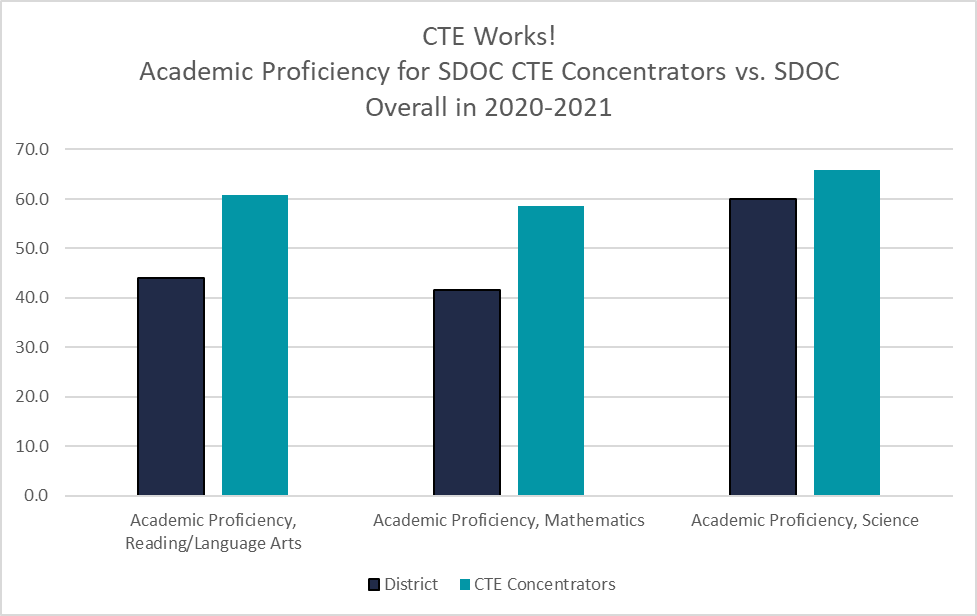 (pictured – 3 bar graphs depicting how CTE concentrators have a higher academic proficiency than their non-concentrators in the Osceola School District)

Febrero fue el mes de la Educación Técnica y Profesional (CTE, por sus siglas en inglés) y el Distrito Escolar del Condado Osceola tuvo muchas razones para celebrarlo. Los datos estatales y distritales muestran que los estudiantes que toman dos o más cursos de CTE durante la escuela secundaria tienen más probabilidades de graduarse (un 6.7% en el condado Osceola) y a menudo se desempeñan mejor que sus contrapartes, no participantes de CTE, en las pruebas estatales.
Ofrecemos cursos para más de 16 trayectorias de carreras profesionales, incluyendo la agricultura, ciencias de la salud, la hospitalidad, la tecnología de la información y la gestión empresarial para nombrar unos pocos. Dentro de estas trayectorias, nuestros estudiantes son capaces de completar múltiples certificaciones de la industria. Durante el año escolar 2021-2022, nuestros estudiantes obtuvieron casi 3,000 certificaciones validadas por la industria y se proyecta que superen ese número antes del final de este año escolar.
El plan de estudios de CTE se extiende más allá de la campana final, ya que muchos de nuestros talentosos estudiantes de CTE participan en clubes y actividades extracurriculares centradas en diversas trayectorias profesionales. Aquí están algunos logros notables que nuestros estudiantes han alcanzado fuera del aula durante el tercer trimestre:
Nuestros equipos de Skills USA se llevaron a casa cinco medallas de oro, ocho de plata y una de bronce de la competición estatal celebrada en Orlando durante el mes de febrero.
El equipo FCCLA del programa de Educación Infantil de St. Cloud High School compitió en la competición estatal y quedó en primer lugar, lo que les permitió avanzar a la competición nacional en San Diego, California. Finalmente, se colocaron entre los diez primeros en todo el país. ¡Estamos muy orgullosos de su arduo trabajo!
Otro objetivo principal de nuestros dedicados profesores y personal de CTE es forjar alianzas sólidas con los empleadores locales para que los estudiantes con certificaciones de la industria y experiencia práctica puedan obtener empleos bien remunerados al salir de la escuela secundaria. A veces estas empresas incluso pagan para que nuestros estudiantes vayan a la escuela, mientras que los estudiantes avanzan en la escala de la empresa. De hecho, actualmente tenemos 10 estudiantes de NeoCity Academy realizando prácticas remuneradas en SkyWater Technology, un fabricante de semiconductores con un laboratorio en el condado Osceola. ¡Prueba de que CTE es un activo para ayudar a nuestros estudiantes a estar listos para el futuro!
El distrito también ofrece oportunidades CTE para adultos a través de varios programas registrados de prácticas profesionales y preprácticas en la construcción, que son posibles gracias a socios comerciales dedicados como Balfour Beatty e iBuild. También hemos lanzado nuevos programas de educación y formación integradas a través de nuestro Centro de Aprendizaje para Adultos (ALCO) para paraprofesionales y flebotomía. A través de estos programas únicos, los estudiantes adultos pueden aprender inglés al tiempo que adquieren habilidades para obtener la certificación de la industria, aumentando así sus posibilidades de empleo y sus contribuciones a la comunidad.
También nos estamos preparando para poner en marcha programas de prácticas profesionales de asistencia médica en colaboración con Orlando Health, así como de técnico de mantenimiento diésel para ayudar a crear una trayectoria para mecánicos cualificados y personal de transporte para cubrir algunas de las vacantes que estamos experimentando en el Departamento de Transporte del distrito.
Estos logros son sólo un vistazo a algunas de las cosas increíbles que nuestros estudiantes y maestros de CTE logran a lo largo de un solo año escolar. Usted puede aprender más acerca de cualquiera de nuestros sobresalientes programas CTE en: Educación Profesional y Técnica / Áreas de Estudio (osceolaschools.net). Además, nuestro equipo está siempre dispuesto a proporcionar asistencia por teléfono al 407-518-4580.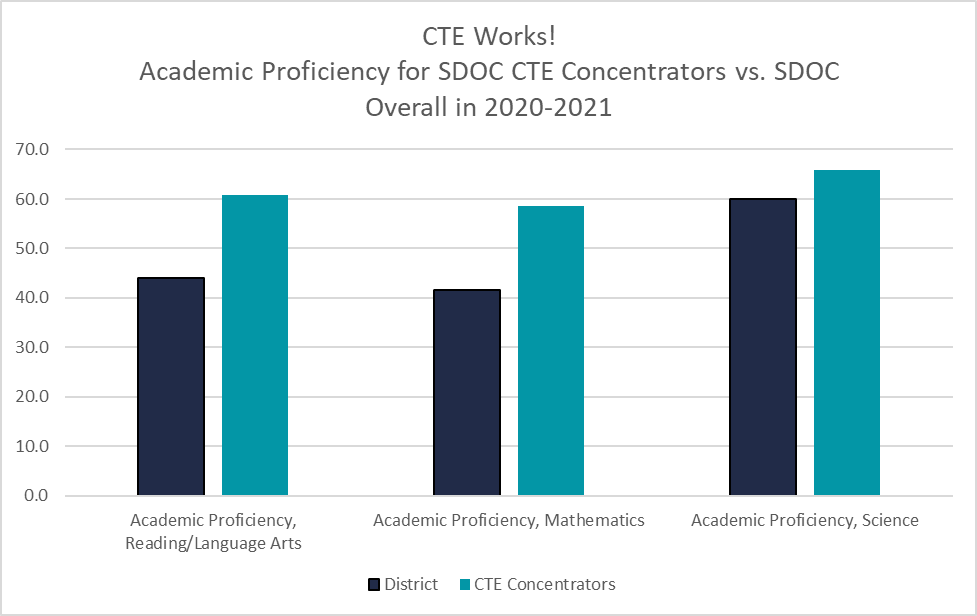 (En la foto - 3 gráficos de barras que muestran cómo los participantes de cursos CTE tienen una mayor competencia académica que sus contrapartes en el Distrito Escolar de Osceola)