School News
ONLINE REGISTRATIONS FOR THE 2020-2021 SCHOOL YEAR ARE NOW OPEN - Click above for more info!!

Interested in learning English language skills or earning your high school diploma? Registration for fall classes at ALCO is open! ALCO is grant-funded, so the cost is low and affordable! Visit www.osceolaschools.net/alco today!

The Osceola School Board is committed to the safety and security of all students, staff, and visitors. The Osceola School District has detailed comprehensive safety and emergency plans for every site, and all schools regularly conduct various drills, such as fire drills, severe weather drills, and intruder drills, to prepare students for an emergency.

The Osceola School District is committed to engaging all stakeholders in the education of our children. Only when we build strong relationships with our staff, students, families and community members can we best meet the needs of each and every student.

Have you been inspired by someone in our schools? Is your school helping us build our legacy as we move from Good to Great? Do you have a teacher who has made a difference on your life or the life of your child? Share the good news with us!

​Here Comes the Bus is easy-to-use school bus tracking software that gives parents and students the ability to track the location of their school buses.
Principal's Message
Greetings Dolphin Family!

We are off to a great start to second semester!

In addition to remaining a safe, healthy, and happy school, we have also experienced some very positive academic growth for our students. When comparing our mid-year data to all 26 K-5 Osceola County Schools, Lakeview rates 5th in ELA, 8th in Math and 9th in Science. Especially this year full of difficult struggles, we are proud of our families and students for continuing to strive for excellence in education. Our teachers, paras, and support staff work tirelessly to meet the needs of each child, and it shows in our data. I want to express my sincere gratitude to all of you! We are a great community of people!

Eighty-nine percent of our students have returned to campus for face-to-face learning. That is something to celebrate! With the State requirement for all students to take the FSA on campus, we are encouraging our digital students to join us on campus to take formative assessments aligned to FSA standards. We are also encouraging 3rd grade students to come on campus to complete the required reading portfolios which can be used for promotion in the event the student does not score at the proficient level on FSA. Arrangements can be made through the digital teacher or by calling our front desk.

To the right of the message, you will find the Lakeview Elementary 2020-21 Mid-Year State of the School Report. Click on the title to download the document.

Feel free to be in touch as needed.

In your service,

Dr. Melanie Cleveland

Principal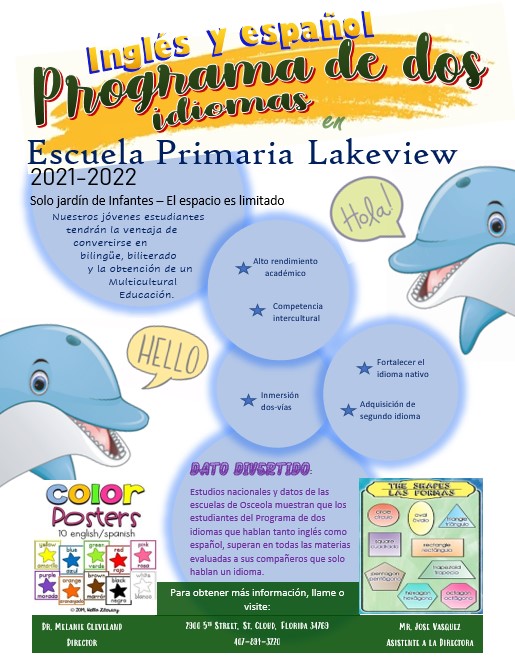 Our Mission and Vision
MISSION

Lakeview Elementary will improve student academic performance through a culture of care and collaboration among faculty, staff, parents, and community members that inspires students to be respectful, responsible, problem solvers.

VISION

To develop well rounded, confident, and responsible individuals who aspire to achieve their full potential. We will do this by providing a welcoming, safe, and supportive learning environment that promotes equity and celebrates diversity.
Please click the link below to view the schools supply list.

It may not be necessary to purchase all items on this list. Please wait for Open House, August 11th, or additional communication from your child's teacher before purchasing supplies.
Please click the file below to view the Mid-year State of the School and out of field teachers :