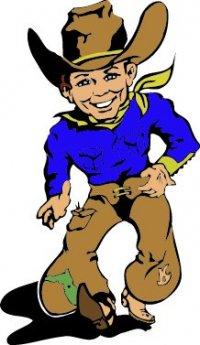 Phone:
Email:
Degrees and Certifications:
Kowboy Jake

In 1948 Cowboy artist Ernest "Buster" Kenton did a pencil sketch of Kissimmee Cowboy, Pete Clemons, drawn for the Kissimmee Jaycees.

"It all came about", Clemons said, "when Kissimmee businessmen Al and Pete Hunt heard that the National Jaycees Convention was to be held in Colorado Springs. Since a rodeo would be featured at the convention, and any Jaycee could participate, the Hunt brothers thought it would be a good idea for some local riders to enter the competition. Hunt, Clemons, and Kenton talked it over and came up with the idea for Kenton to draw Kowboy Jake to help promote the Kissimmee Jaycees at the convention."

By the time the convention rolled around, postcards with Kowboy Jake on the front were ready for the group to take with them to Colorado. The card described Kowboy Jake as the symbol of Kissimmee friendliness and told of the part Kenton and Clemons played in creating the character. Jake became a symbol of friendliness, and for years he was the first thing you saw as you entered Kissimmee.

It has been our pride to adopt and preserve the traditions of our community. Kowboy Jake has been the mascot of Osceola High School since the early 1950's.