Return to Headlines
By: Abby Jacobacci, Community Relations Specialist
As Osceola County continues to attract new residents, the need for new schools arises. On Monday, February 13, the School District of Osceola County broke ground on our latest K-8 school in the Sunbridge development. Attendees and speakers at the event included Superintendent Dr. Debra Pace, School Board Vice Chairwoman Erika Booth, Dave Sharma, Interim Facilities Director, and partners from Zyscovich, Gilbane Building Company, and Tavistock. This new school will be the district's fourth K-8 campus. It will consist of a three-story, hi-tech main learning facility, parent and bus loops with covered canopies, a standalone gymnasium, and numerous athletic amenities. This project has a completion date of fall 2024.
"The groundbreaking for this new school signifies our communities joining together by investing in the lives of our children and their future," said Superintendent Dr. Pace. Geoff Tucker, Florida Operations Manager for Gilbane Building Company, added similar sentiments saying, "We are excited to continue our great partnership with the School District of Osceola County, Tavistock, Zyscovich, and Osceola County. Gilbane looks forward to delivering a revolutionary campus that will serve students, teachers, our local community, and future generations."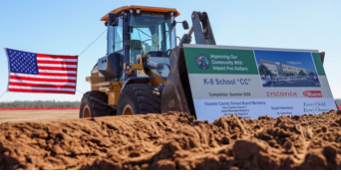 (Pictured – American flag on a piece of construction equipment with a sign depicting new school in front.)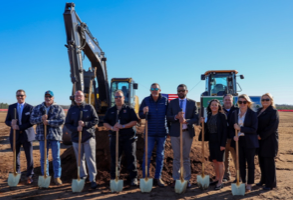 (Pictured – SDOC staff with shovels in front of dirt mount and construction equipment.)

A medida que el condado Osceola continúa atrayendo nuevos residentes, surge la necesidad de nuevas escuelas. El lunes 13 de febrero, el Distrito Escolar del Condado Osceola inició la construcción de su última escuela K-8 en la urbanización Sunbridge. Entre los asistentes y oradores del evento se encontraban la superintendente Dra. Debra Pace, la vicepresidenta de la Junta Escolar Erika Booth, Dave Sharma, director interino de Instalaciones y socios de Zyscovich, Gilbane Building Company y Tavistock. Esta nueva escuela será el cuarto campus K-8 del distrito. Constará de una instalación principal de aprendizaje de alta tecnología de tres plantas, vestíbulos para padres y áreas cubiertas de recogida para los pasajeros de autobuses escolares, un gimnasio independiente y numerosas instalaciones deportivas. La finalización del proyecto está prevista para otoño de 2024.
"La colocación de la primera piedra de esta nueva escuela significa que nuestras comunidades se unen invirtiendo en las vidas de nuestros niños y en su futuro", expresó la superintendente Dra. Pace. Geoff Tucker, director de operaciones de Florida para Gilbane Building Company, añadió sentimientos similares diciendo: "Estamos entusiasmados por continuar nuestra gran asociación con el Distrito Escolar del Condado Osceola, Tavistock, Zyscovich y el condado Osceola. Gilbane espera entregar un campus revolucionario que servirá a estudiantes, maestros, a nuestra comunidad local y a las generaciones futuras."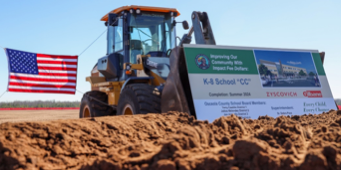 (En la foto, una bandera estadounidense sobre un equipo de construcción con un cartel que representa la nueva escuela).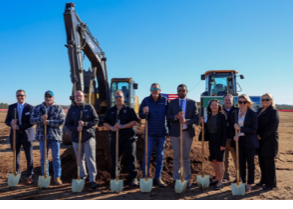 (En la foto: personal de SDOC con palas delante del monte de tierra y el equipo de construcción.)